Weekend Roster Moves of note
No real surprises here, except maybe Blake Parker, who was pretty decent last year in 46 innings and change for the big league club.
Castro has played in a minor league game or two and should be back for opening day. Hopefully they'll take it easy on his hamstring in the cold weather next week, though Aisley said on twitter this morning that the extended forecast for the Cubs home opener is 62 degrees, for what little it's worth.
BPro scouting notes on various prospects
Jason Parks and his BP friends saw a bunch of Cubs players yesterday ($). Parks had great things to say about Almora's fielding, especially in Arizona's troublesome sun. Not much new on Javier Baez – big league pitchers with changeups are going to own him until he adjusts. Parks also had lots of things to say about Junior Lake, including that he still has the ceiling of a 30-30 guy but right now he's pretty much a 'fastball in the middle of the plate' guy. The tools are there. Lots of nice things to say about Christian Villanueva too, especially about his bat's future.
BPro NL Central preview
Ken Funck and OV Executive Overseer-in-Chief Harry Pavlidis preview the Cubs competition ($), answering five questions about each team. My favorite thing from this piece was suddenly realizing that Ryan Braun will be playing in RF, i.e. the sun field at Wrigley. Bonifacio is a switch hitter, and if he makes the team I wouldn't be surprised to see an inside the parker at some point. Billy Hamilton might hit 5 or 6 against them (dying laughing). They're also kidding themselves to even consider that Ryan Braun could win another MVP award from the BBWAA. They also seem pretty conviced that Shark (obviously) and Travis Wood (surprisingly) will be dealt. I don't really see it with Wood, *someone* has to pitch those innings for the Cubs for the next few years.
Re: Last weekend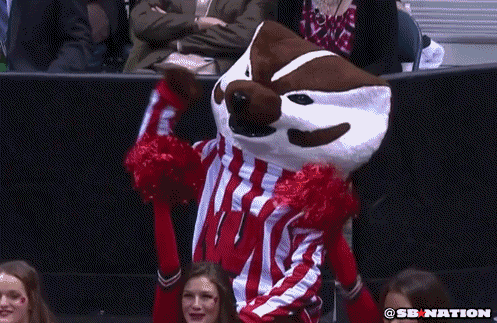 It's a strange feeling to see a Wisconsin basketball team down double digits and not be too worried. Not to mention these newfangled things like dunking and alley-oops, and scoring more than 50 points in a game. What team is this?
Of course, they'll go 2-19 on 3-pointers and lose by 25 to Baylor on Thursday because that's how this tournament works.