As most of you know, if you've spent any time around me or this site or my Twitter feed, my default setting is cynicism.  This comes from a long time spent being a Cubs fan.
I don't need to rehash it all. You know why. Because some of you have lived through at least some of the years I'm referring to and some of you have lived through more.
But for me, it's been different the last two years. And I have the Blackhawks and my friend Nancy to thank for that.
Nancy is a Blackhawks fan the way I am a Cubs fan. She grew up living and dying with them. She has an Al Secord sweater. I didn't know who Al Secord even was.
Back in the 2010 playoffs, we went out to watch the Blackhawks/Predators Game 5 at a local bar. It was a pivotal game. The series was tied at 2 and Game 6 would be in Nashville. With the Blackhawks down 4-3 with about a minute left in the game, Marian Hossa was called for boarding and had to head to the penalty box for a 5 minute major. The Blackhawks were down and were now short-handed. That's not good.
As a Cubs fan, I had seen stuff like this before. I had seen dreams torn away in pivotal playoff moments. We've all seen some shit.
So, naturally, I went to Nancy who was just staring at the TV and I put my hand on her shoulder and said, "I'm sorry, Nancy, they'll get Game 6."
She looked at me like I had just killed a puppy with my bare hands in front of her. "This. Game. Is. Not. Over. Yet," she told me with ice in her eyes. It was clear she didn't want to hear my Cubs fan-bred doom and gloom. I backed off slowly to watch what I was sure to be a crushing Blackhawks loss.
Lo and behold, Kane scored the short-handed tying goal with 13 seconds to go, and then in OT none other than Hossa himself came out of the penalty box to score the winner and put the Blackhawks up 3-2 in the series. The bar was going apeshit. I was stunned.
From that time on, I knew the Blackhawks weren't the same old Blackhawks that always found a way to lose. They were young and talented and gave zero fucks about playoff pressure. It was amazing to suddenly have a team to have confidence in during the most stressful situations. Even before they had won a Cup, they had that air about them.
Sound familiar? Because that's the Cubs now.
Cubs Twitter was melting down during most of the game last night. The words "collapse," "choke," "implode," and "curse" were peppered through my timeline as people gave up hope while Matt Moore mowed Cubs batters down like he was possessed by whatever demon possessed Madison Bumgarner in 2014. If Cubs fans emotions could be summed up in one GIF, it's this one: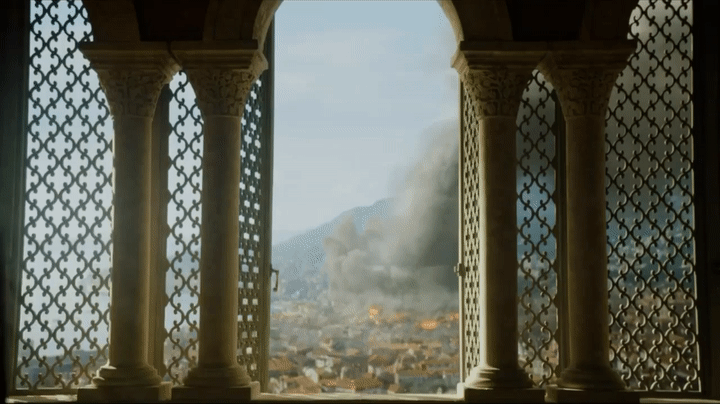 Now, I wasn't happy. And I won't say I wasn't worried or stressed. (My Cubs hat was flung across the room a few times, most violently after Moore's 0-2 RBI single and Dex's TOOTBLAN.)
However, I was not resigned to their fate until the game was over. Because, as Nancy said back then: This. Game. Was. Not. Over. Yet.
I even tried to inject a little of my oddly out-of-place positivity into Cubs Twitter:
This team does not panic.
This team does not quit.
This team is very capable of making this interesting.

— Not Just a Cubs Fan (@Aisle424) October 12, 2016
Afterall, how many times have we seen this Cubs team snatch victory from the jaws of defeat? They were being no-hit through 7 innings on Opening Day. They won. They were down 4-3 with two outs and nobody on in the 9th of their last game of the regular season. They won.
Last year, Bryant got the walk-off HR after they had blown a lead to Colorado in the top of the 9th. They had given up the lead in Game 4 of the NLDS vs. the Cardinals, but Rizzo put them ahead and Schwarber crushed their spirits with his videoboard bomb. They've made a habit of pulling their own asses out of the fire.
Nevertheless, after my tweet, my mentions quickly became a dumpster fire of people explaining how done the Cubs were.
We know what happened next.
Bryant single. Rizzo walk. Zobrist RBI double. Contreras game-tying RBI single. An error on Heyward's bunt. Go-ahead RBI single by Javy. They went from down 5-2 to up 6-5. Giants fans basking in the glory of their Even Year Magic bullshit were suddenly reduced to watching their season end through fingers over their eyes.
The Cubs rose from the ashes of certain defeat. The team that has all that talent and zero fucks to give grinded out a comeback for the ages and punched their ticket to their second straight NLCS.
Let's think about that. The Cubs are going to the NLCS two years in a row, folks. It's time we start giving them the benefit of the doubt. It's time we stop looking for that anvil to fall on our heads. The Cubs themselves are clearly not letting the pressure exceed the pleasure and they're the ones with the most pressure.
They may not win the whole damn thing, but they are not done until there are no more outs left.
It's time we embrace that. If you start having doubts, ask yourself, "What would Nancy do?"