The Brewers started the season scorchingly hot and had a 20-8 record on May 1. Since then they've gone 53-55, are currently riding a five game losing streak, and are now tied with the (ugh) Cardinals for the division lead. I think the Pirates end up taking the division by season's end but that big lead the Brewers built early in the year has given them a big cushion. (The new-ish look Cubs, by the way, have been 14-13 since the Baez callup).
Team Overviews
NL Rank in parens Brewers
wRC+: 97 (5th)
UBR: 3.9 (4th)
UZR: 8.8 (7th)
DRS: 2 (12th)
SP FIP-: 107 (11th)
RP FIP-: 98 (10th)
Run differential: +15 (5th)
R+RBI: 1131 (2nd)
Cubs
wRC+: 88 (11th) – movin' on up!
UBR: 6.2 (2nd)
UZR: 16.2 (5th)
DRS: -6 (13th)
SP FIP-: 93 (2nd)
RP FIP-: 88 (4th)
Run differential: -55 (12th)
R+RBI: 1029 (9th)
News, notes, injuries, oaths of vengeance, etc.
Lots of roster shakeups with the waiver trade deadline and September callups. The Brewers picked up Jonathan Broxton from the fading Reds to be their new setup man.
Blake Parker's been called up, and Eric Jokisch and others will follow in the next few days. The Cubs already called up all the guys we were expecting to see in September anyway, so there shouldn't be anything too exciting transaction wise. Kris Bryant is going to stay put.
Carlos Gomez has a sprained wrist and could miss the entire series. A huge blow for the Brewers. Matt Garza has been on the DL for most of the month with a oblique strain but should be back for this series. I'm happy to lift my stance on bunting whenever the Cubs face him.
Shockingly, the Cardinals were really whiny in yesterday's game. John Lackey tried to get into it with Starlin Castro for cursing at himself in Spanish after a popout on a hung slider, then Matt Holliday and Mike Matheny got all huffy after he was hit by a pitch that got away in a close game and later took an up and in pitch WITH THE BASES LOADED IN A TIE GAME. Fuck Matt Holliday.
Apparently there were a lot of Cubs fans at Busch Stadium this weekend, though I don't know why they would have been booing the Cardinals pitchers for giving up runs. We all know the Best Fans In Baseball would never boo players on their own team. Maybe it was just weird acoustics.
Bo Porter was fired by the Astros today, after reports last week of him and the seemingly despised by everyone Jeff Luhnow being at odds. Waiting for a bunch of breathless posts from Astros FO types about how the org has finally turned a corner.
The Cubs are honoring the Jackie Robinson West team at Wrigley, which is great. Not so great are the pregame uniforms they're wearing, which will be used for fundraising.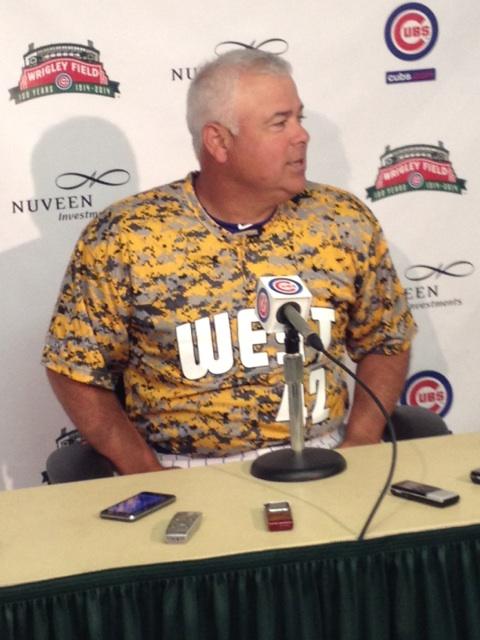 Seriously? It looks like someone puked all over a jersey.
Probable pitchers
ERA, xFIP, projected FIP listed for each pitcher
Monday: Jimmy Nelson, RHP (4.10, 3.93, 4.87) vs Jacob Turner, RHP (5.84, 3.97, 4.58), 1:20 PM CT
The Turner deal was a good buy-low deal for the Cubs, but he's looked pretty shitty so far with the Cubs. Of course, a .364 BABIP doesn't help. He's managed to limit walks and keep the ball on the ground though, which are encouraging for future success. Still, I have a feeling that a spring training DFA is in his future, if not sooner.
Nelson put up incredible numbers in AAA for the Brewers this year, and has merely been good with the big league club. He's a sinkerballer who throws around 93-94 and gets strikeouts, and if he keeps his walk rate under control (his biggest problem in the minors) he'll be a solid piece of this club for some time.
Tuesday: Yovani Gallardo, RHP (3.26, 3.64, 3.88) vs Jake Arrieta, RHP (2.88, 2.82, 3/79), 7:05 PM CT
My brain wrote off Gallardo a few years ago for some reason, and I'm baffled as to why.  Maybe it's just that he's just a Very Good pitcher rather than the Ace label that was thrown around a few years ago, which makes a little sense when you consider who else was on those pitching staffs. He's having another solid year despite his strikeout rate being way down, relying on more grounders and fewer walks instead.
Arrieta had his first bad non-Coors start of the year in his last time out, though it's not like GAB is known as a pitchers park. He struggled with his control, walking four batters in four innings but still managing to get eight strikeouts with the six runs allowed. That kind of line feels more like Orioles-era Arrieta. Or Cubs-era EJax. The Cubs are probably moving to a six man rotation, and they might want to take it extra-easy with Arrieta.
Wednesady: Matt Garza, RHP (3.58, 3.99, 3.65) vs Kyle Hendricks, RHP (1.91, 3.94, 4.20), 7:05 PM CT
This is Garza's first start back from a month on the DL. Surprisingly he only has two fielding errors this year, teams need to remember to bunt on him. He's posted a really good BABIP this year, especially for the ground ball pitcher that he's become. It's hard to believe that he pitched for the Cubs as recently as last year, it already feels like 5 seasons ago.
Pretty much everything has gone right for Hendricks so far this year. The only game where he got into any real trouble ended up having a big rain delay that knocked him out of the game before the O's could do more damage to him. He's been really fun to watch, and it's great to see him succeed.