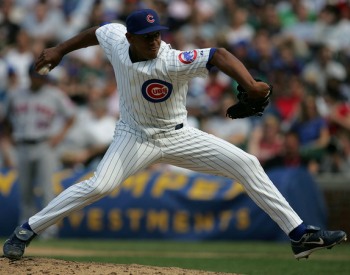 Since the Cubs are set to rebuild we may as well start taking a look at some of the players the Cubs might try to move in the next several weeks. Obviously Matt Garza has a lot of value. Sean Marshall was probably next on the list, but his value was limited. Off the top of my head I don't think the Cubs really have anybody else that would bring much in a return.
However, it's better to look at some numbers and see if they back that opinion up. The fans project 1.4 WAR, Bill James projects a 3.75 FIP over 75 innings. If we calculate his WAR using a 4.2 league average FIP he's worth about 1 WAR. CAIRO projects .9 WAR and Oliver projects 1.5 WAR. That's an average of 1.2 WAR. If we use $5 million per win he's worth $6 million in 2012. Even if we use a modest decline in his age 30 season (2013) that's 1 WAR and $5.25 million.
Over the next two years he's due $16.7 million and is expected to produce $11.25 million in value. As you can see, if the Cubs wanted to trade Marmol they'd have to kick in about $5.5 million and would still get nothing in return. You think that's too low? Ok, let's try this.
A little over a year ago I took a look at Heath Bell, Brian Wilson and Carlos Marmol. This is what I wrote at the time.
Marmol will be eligible for arbitration for the second time and has nailed down the closer's role. If we guess that he'll have an average FIP projection of around 3.3, it makes him worth about the same as Wilson was worth last season ($6.5 million). However, arbitration is based on how much similar players have gotten so the roughly $4 million contracts each got is comparable to what Marmol is likely to get.

For what it's worth, if the Cubs aren't planning to contend next season as it appears they are not, they should be trying to trade Marmol this offseason. They won't. They'll keep him for two more seasons, not win, and then not even offer him arbitration when he is eligible to file for free agency after 2012. It's a way of life!
The Cubs did one better than a two-year deal. They gave him a 3-year deal for about $21 million. Last January I took another look at these three players.
There's a reason Barry Praver is looking to get a multi-year deal done for his client, Carlos Marmol. That reason is because the Brian Wilson contract becomes the most comparable deal and therefore Marmol is going to be looking for $15 million or more over his final two years of arbitration. What Praver doesn't want is for Marmol to be signed to just one year becuase Heath Bell is then the most comparable player. Bell got $4 mllion in his second year of arbitration.

…

If we consider ballpark to some extend here, Marmol has posted the more sparkling ERA than Bell, but not nearly as good as Wilson. Bell and Marmol are probably about equal after ballpark adjustments in FIP, but Wilson leads by a large margin again. Wilson has the better xFIP and Bell is a bit behind him, but both are significantly better than Marmol. As for WAR, Marmol is a bit better than Bell, but both are well behind Brian Wilson. So it makes perfect sense that Wilson is getting paid more. The question is how much should Carlos Marmol get?

If the Cubs want to buy out his final two years of arbitration, then the Brian Wilson contract is what we look at. If instead they decide to only sign him for one year, they can get a much better deal. My guess is that Marmol wants more money over two years than the Cubs are willing to spend, or at least I hope so. I'm hoping they end up at around $4 million for one year becuase two years and $15 million is retarded.
The reason I'm bringing this up is that Heath Bell was a free agent this offseason and signed a 3-year deal with the Marlins for $27 million. Over the last four years Bell has been worth 4.9 fWAR and 6.2 rWAR. Marmol has been worth 4.4 fWAR and 5.4 rWAR. Bell has basically been half a win better per season over the last three years. Bell is older, but both are past their prime.
If Marmol was a free agent he could expect a bit less than the 3-years, $27 million that Bell got. I'd guess about 3-years, $24 million or $8 million per season. Marmol is making $8.4 million per year over the next two seasons.
Even if we compare Marmol to a player he is similar to, we find he still has no surplus value. Trading Marmol will be a salary dump. The Cubs could throw in some money to get a prospect back, which is probably what they'd do. Who would take over his role if the Cubs traded him?
Prior to a couple days ago the obvious answer was Sean Marshall. He's gone and the Cubs are currently without a setup man. It's highly likely the Cubs will re-sign Kerry Wood. He could easily take over the closer's role. He's no longer a great pitcher, but he still can provide some value. Signing Wood for one year would allow Andrew Cashner or another young player to grow into the role.
If I had to guess, I'd guess the Cubs don't trade Marmol. I doubt their confident enough in the rest of their bullpen. They probably went into this offseason with the intention to trade Marmol or Marshall and realized quickly that Marshall had a lot more value than Marmol. If Marmol gets off to a great start he could improve his value and closers are always in demand around the trade deadline.
Trading Carlos Marmol for something would have been a great idea last offseason, but once the Cubs signed him to that 3-year contract he had no trade value.