For the first time, Jackson looked like the pitcher the Cubs were expecting when they signed him to a four year deal. He hit 97 on the Sox gun (which Len and JD suggested may have been a little hot) with his fastball. Though the game ended up getting rained out, his pfx numbers are still in the brooks database (at least for now). Jackson came out firing mostly fastballs, throwing 21 four-seamers to 12 sliders/sinkers. Apparently the gun was right on – pfx has his fastest pitch clocking at 97.91, and he averaged 95 on both his sinker and four seamer. I've been worrying about his velocity all year, which as been ~1.5 mph less on all of his pitches, so this is a great sign. Too bad we couldn't see him go deeper into the game.
RIP Dr. Lewis Yocum
Famed sports orthopedist Dr. Lewis Yocum passed away this week from liver cancer. He was working right up to the end, and did the diagnosis on Roy Halladay's shoulder just a few weeks ago. Cubs fans know Yocum best through the injury saga of Mark Prior's bum shoulder, though it was James Andrews who eventually opened him up and proved that Prior was indeed pitching through a serious injury and shutting up all the people who thought he was soft and making it up.
Impact of the International Draft on the scouting community
Baseball America's Ben Badler discusses the impact of the draft on international scouting. The short version: a lot of people will lose their jobs. I do wonder if it will cut down on corruption. The players themselves will be just as screwed, money-wise, but as Badler points out the tradional street-wise networking types will have much less of a role in the system.
Arodys Vizcaino: pretty much done for the season
Vizcaino was having some elbow discomfort in his throwing sessions recovering from TJS. After the dreaded visit to Dr. Andrews, who performed his surgery, he was diagnosed with a calcium buildup and underwent debridement surgery. He won't pick up a baseball for another six weeks, and certainly won't pitch with the big league club this year. The good news is that all of his ligaments look just fine.
Wrigley Tyrano-Vision update
The Cubs hung mockup panels about the size of the new video scoreboard and the large ad in RF with cranes yesterday to get an idea of how much of the rooftops' views would be obstructed.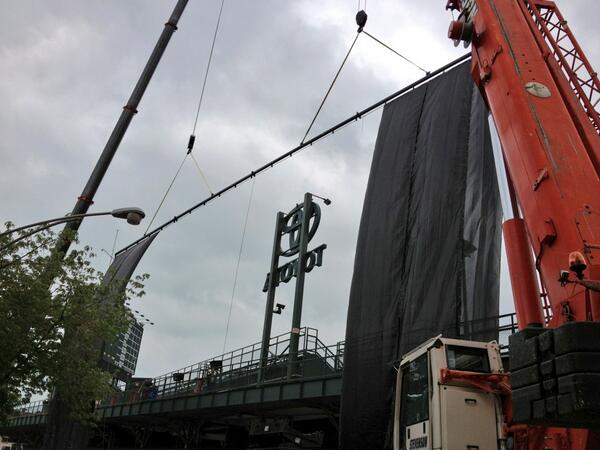 (h/t to Bleacher Nation reader @JeremySchermak on the pic)
The rooftops made a non-statement statement in response to the test plugging their own signage plan.
AAA injuries
Remember Junior Lake? I had forgotten about him too. He broke a few ribs late in spring trianing and has been completely off the radar. He was supposed to be back around now, but Tommy Birch of the Des Moines Register hears that he's probably still a month away. Josh Vitters is also back on the DL with a rib injury, so Ian Stewart is off the pine again.