We just have the point-after-try to kick, or something
Several months ago, we were on the "five yard line" in the Theo compensation situation. Since then we've crossed the blue line, stepped into the paint, crossed the box, and veered right at the fireworks factory exit, and now it's finally been decided that Cubs prospect Chris Carpenter would be the compensation. There are still PBTNLs going each way that will be decided by April 15, since it has to be an officially official player trade. Everyone in the Chicago media is all confused because there wasn't an official trade when the Rays traded Randy Winn to Seattle for Lou, or the Ozzie 'trade'/tampering with the Marlins. Except there was, as MB pointed out:
October 28, 2002: Traded by the Tampa Bay Devil Rays to the Seattle Mariners for Antonio Perez.
Florida Marlins traded RHP Jhan Marinez and SS Osvaldo Martinez to Chicago White Sox and Bristol White Sox traded RHP Ricardo Andres to Greensboro Grasshoppers.
Cubs have four of BA's top 100 prospects
Cubs prospects Brett Jackson (32), Anthony Rizzo (47), Javier Baez (61), and Matt Szczur (Szxzxty-Fourth) made BA's annual list. BA loves the vowel challenged multi-sport athlete much more than most prospect listers. Read more about it in MB's post from yesterday.
Rotational news
Bruce Levine thinks that Travis Wood will have a spot in the rotation. I wonder who he thinks will be third though. He says that he thinks Maholm and Wood will be 4th and 5th, with Volstad, Wells, and F7 battling for the spot behind them. So then the rotation would be
1. Garza
2. Dempster
3 ??
4. Maholm
5. Wood
.
.
.
6. World Series Bound!!!!11!
I think the Cubs are better off just stashing Wood in AAA to keep down his service time. He has options left (I think just one), but it's very unlikely that they won't have to burn it at some point this year.
Spring Training positional battles
Not much is generally decided in spring training beyond the 2-3 players fighting for the last spots on the roster. In the same chat, Bruce thinks that the Cubs need another backup middle IF, which doesn't make sense at all. Hendry's fingerprints are still all over the organization, and his fingerprints take the form of middling second basemen, What the Cubs probably need most is a backup right-handed corner infielder so Stewart or LaHair aren't stuck playing against LHP.
(h/t to Bleacher Nation for the Levine chat link)
Why, indeed
Just asked Rizzo if he sees the Cubs winning a World Series in the next five years. His response: "Why not this year?"

— Doug Padilla (@ESPNChiCubs) February 22, 2012
MO's worst nightmare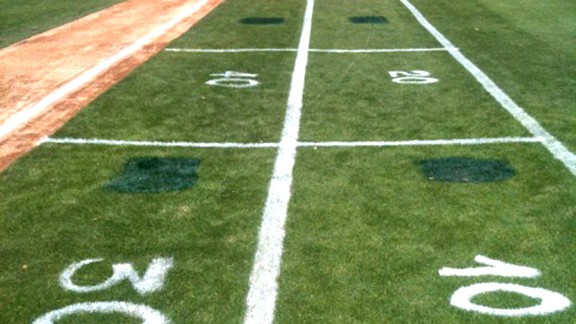 New manager Dale Sveum set up a ~two-week bunting contest among Cubs players. I kind of like this idea. The Cubs suck at fundamentals, maybe this will help. We know nothing about the kinds of drills that go on in the minors, but this seems vastly more motivating than just plowing through the same old drills.
The Cubs just need to figure out something similar for TOOTBLANs. Free OV subscription goes to whoever thinks of a similar Spring Training contest for the Cubs woeful baserunners.
Community returns on the Ides of March
I know there are a bunch of fans here, and show creator Dan Harmon confirmed that Community will return March 15 at 8pm. Given the show's luck, this could be an elaborate scheme by NBC to assassinate the show on the Greendale Student Senate's steps or something.
1b price war news from The Shire
The Trib reports that Thoyer told LaHair months ago that they had no intention to sign Fielder or Pujols, and to ignore any rumors to that effect. Of course, they could be lying, but it was pretty nice of them to let LaHair know not to worry, and it's not like the Chicago media were going to interview him while he was playing winter ball when they're too busy chasing down purple-shirted sources down the block.
Cheap laugh of the day
A Cubs fan bought the domain name for the Red Sox spring training park, www.jetbluepark.com
Simpsons quote of the day
Recent song of the day