I'm going to break this article into three parts. First, I'll talk about what the Cubs gave up. Second, I'll talk about the on-field potential of Aroldis Chapman, and what it means for the Cubs in 2016. Lastly, I'll talk about the off-field potential of Aroldis Chapman and what this means (to me) about this team.
The first thing we need to realize when we look at what the Cubs traded is that only Adam Warren had a chance to play a single game for the Cubs the rest of 2016. If you take this as just a referendum on 2016, they've "traded" Adam Warren for Aroldis Chapman. Warren was a pretty nice pitcher who nonetheless struggled mightily for the Cubs in his limited time here. He walked a ton, gave up way too many home runs, but still profiled as a potential innings-eater for an ok team.
Billy McKinney's star collapsed after his injury. He's more-or-less a lottery ticket with the potential to be a second-division starter even if things break right for him and he reclaims all of the power that he lost. Rashad Crawford was a toolsy guy who is basically an organizational player. He is a complete lottery ticket and the Cubs have a ton of those; he won't really be missed. I would value the combination of Warren, McKinney, and Crawford at roughly a bottom of the Top 10 prospect in a mediocre farm system. I'd rather have all three of those guys than Duane Underwood, probably, but I'd think hard about it.
The real loss here is Gleyber Torres, and it will hurt a lot. Torres was having a great year, growing into more power and patience while maintaining a glove that should allow him to stick at SS for the long-term. He's at least 2-3 years away from contributing at the majors (when Russell or Baez will be getting MVP votes at that position – a guy can dream), but he's a very real upper-echelon prospect. He was the Cubs' #1 prospect and he'd be the #1 prospect on around half the teams in baseball. The Cubs have basically set the market for impactful relievers with the Vogelbach and Torres trades; if other teams follow suit, perhaps this is just the new price of doing business. It's also slightly important to note that the Giants (who are absolutely in dire need of relief pitching) are the Cubs' likely NLCS opponents and now they CAN'T acquire Chapman (who is likely the best reliever on the market).
Still it's not a stretch to call Torres the best prospect of the entire Carolina League. One of my favorite things to point is if anyone younger than you was a higher wOBA in a given league. For the Carolina League:
21+: Yoan Moncada (leads the league with a .417 wOBA)
20+: Bobby Bradley (5th in league with .395 wOBA)
19+: Gleyber Torres (15th in league with .364 wOBA)
When it's all said and done, I think Torres has a good chance to be a starting shortstop for a dozen years. Is it guaranteed? Definitely not. Could he be the next Barry Larkin? Sure, I guess, but we already have one. I was reasonably confident that Torres would be traded this deadline for something.
The return, of course, is Aroldis Chapman. Let's get a few things out of the way right now: Chapman is the best reliever in baseball. You can get cute and say that Davis or Betances is better, but over the last 3 years Chapman has them both by 30 points of FIP. Betances is utilized more and is more valuable as a result, but for each inning they throw, Chapman is better. Hands down.
Chapman works around 100 mph with his fastball. Here's something cool: Hendricks has an 88.63 mph fastball, and Chapman clocks in at 89.14 mph with his changeup. It's sort of unfair how fast he throws it, and there will be an added bonus to Chapman relieving games that Kyle Hendricks starts. Chapman uses his fastball 75-80% of the time, his slider 15% of the time, and his change 5-10% of the time. Whatever he throws, opponents don't make contact with it. his career swinging strike rate is 17.6%, which is the highest rate in baseball over the past 6 years. They also make contact at the lowest rate all-time over that same span.
(Aside: those stats are not identical. Swinging strike rate is how often you can entice them to swing (and miss). Contact is the rate at which they swing and miss. If you get them to swing at 50% of your pitches, and their contact rate overall is 70%, your swinging strike rate is .5 * (1 – .7) = 15% and your contact rate is 70%. This means that Chapman both gets people to swing at his pitches AND that they suck when they do choose to swing. Carlos Marmol would have a low contact rate but a low swinging strike rate. People just don't swing at his pitches.)
The knock on Chapman is that he does walk guys; or, he did until this year. After rates of 11.2, 11.9, and 11.9 percent, this year he cut that to 6.7% It's come with a corresponding diminution in strikeout rate (52.5% to 41.7% to 36.7%), but I'll trade 5% of K rate for 5.2% of BB rate any day of the year. It's also been 31.1 innings, so it's safe to assume he's the same pitcher he's been for 6 years. You wonder when his arm will explode, but the Cubs are only betting that it doesn't explode in 2016.
Unfortunately, something else exploded in 2016 (well, technically December 2015); Aroldis Chapman's firearm. Not only is it impossible to gloss over his domestic violence problems, it's important that we address it. Here are the relevant facts as Deadspin found them: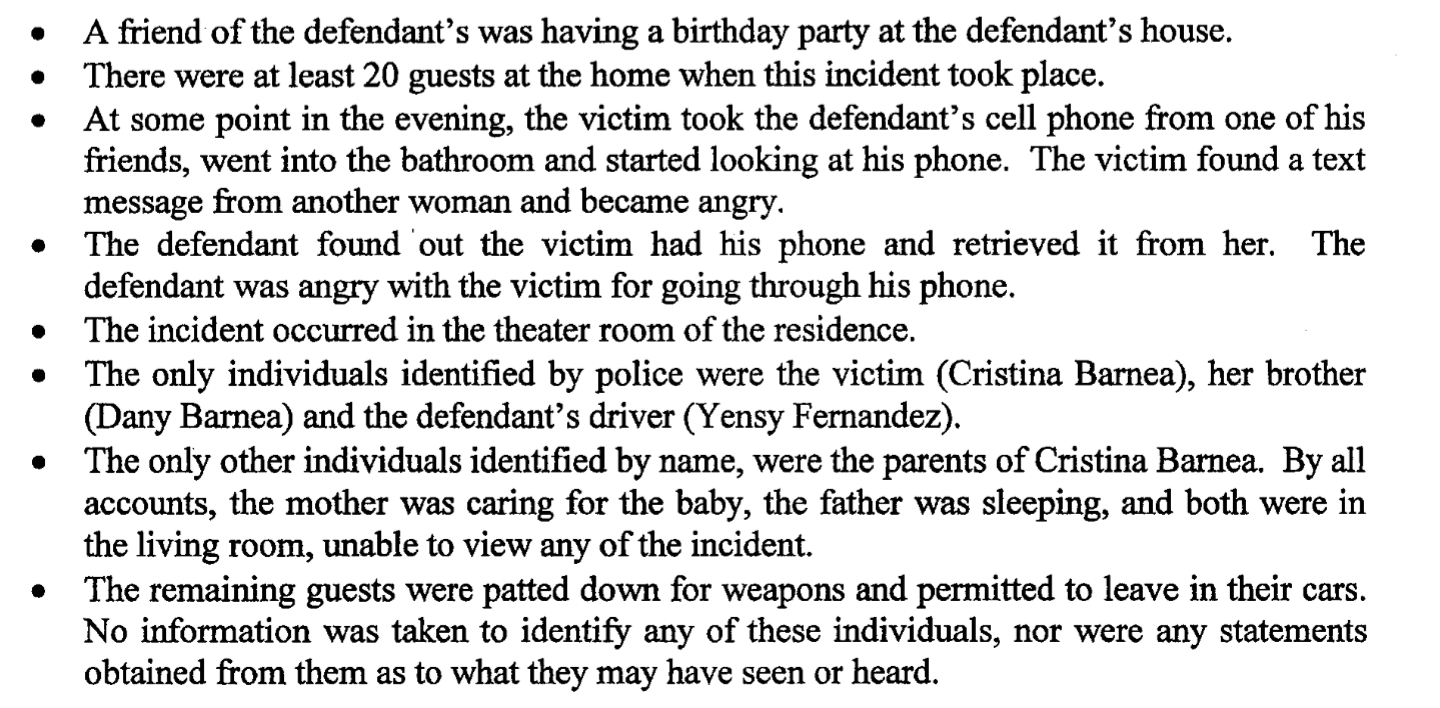 Cristina Barnea (Aroldis Chapman's girlfriend and mother of his children) called 911 and told them "He was hitting me in front of everyone and he's going crazy." and that he "choked" her (though it seems that there is some potential for miscommunication on whether or not it was a choke or a poke). 2 weeks later, she'd say that she WASN'T choked, but that he poked her and she "lost her balance and fell." Chapman admitted to firing his gun 8 times, but the Florida police department didn't find a basis for prosecution and there were "no cooperating witnesses."
First, let's take the thought exercise that everything we don't know is beneficial to Chapman. He still cheated on his wife (which I imagine plenty if not the majority of baseball players do), and when confronted about it, he pushed her and then fired a gun into the house where his 4-month old child was (to his credit, 7 were into a garbage can and one was out a window (which is peculiar).
Two problems here. First, there is plenty of evidence that (on the whole, and not this specific instance) victims of domestic violence are either coerced into recanting/modifying their stories; the examples of this are so common as to not exactly require explanation. Second, he still FIRED 8 SHOTS IN HIS HOUSE. That's not healthy behavior. It just isn't. There are kids in that house and who knows what outside.
This isn't the only problematic behavior that Chapman has displayed.  To be frank, he throws at people's heads. That isn't machismo (especially for a fucking reliever); it is an assholish, awful thing to do. If Schierholtz doesn't move out of the way of that second pitch, he could have fucking DIED. I don't want that shit on my favorite team and I don't want it in my favorite team's clubhouse.
As a person, Aroldis Chapman seems to be a shitty person on the field and a shitty person off of it. Does he make the Cubs a better team? Sure. Do I have to like the person on the mound if the Cubs win the World Series this year? Absolutely not. I can think the guy is a turd blossom and still love the team. That said, my opinion of the Cubs has gone down. How can it not?
I'm not going to tell you how to feel how about this move. You can hate it or love it for whatever reason you want; it's your right as a fan to feel however. We should all extend the same courtesy to others. If you can get past Aroldis Chapman's misdeeds (or if you even think there were no misdeeds at all), that's your prerogative. I'll just say one last thing and tie this into Sammy Sosa. There IS no moral high ground to hate Sammy Sosa for what he purportedly did and still love Aroldis Chapman. These are people you can more or less safely excise from your brain space. This is an excellent litmus test.
Do you love Sosa and hate Chapman? Reasonable.
Do you love Sosa and love Chapman? I don't agree, but reasonable.
Do you hate Sosa and hate Chapman? Ok…are you sure you're a baseball fan? In any case, reasonable.
Do you hate Sosa and love Chapman? Kindly get the fuck away from me.